At CNE we can provide all your security needs whether it being at your home or business. We can arrange a site visit and talk through your requirements and offer you the latest products from leading manufacturers.
Alarm systems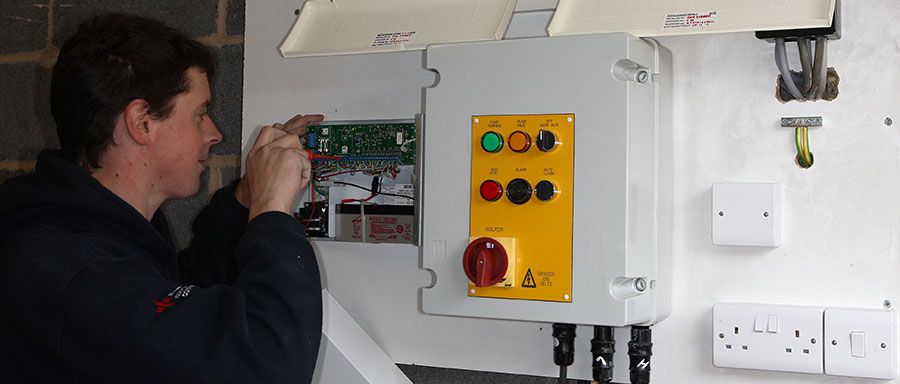 We supply and install security systems from Risco one of the world's leading manufacturers. A full and accurate site survey and risk assessment ensures that the system will deliver the required level of protection to suit your requirements. Systems are designed for optimum protection of property and buildings and ease of use. This can include setting, un-setting and receiving notifications from mobile phones. We can even provide external detection that is immune from false alarms that can provide silent notifications and when used in conjunction with cameras provides excellent security solutions. CNE can also upgrade existing systems and provide additional coverage by using Riscos LightSYS hybrid system without the disruption of a conventional wired system.
CCTV
CCTV systems can be designed and installed to suit your requirements, from simple fixed camera systems to PTZ cameras that will actually follow where movement is present. Most of the cameras we install work in extremely low lighting conditions and provide considerably better images than are seen by the human eye. The data is stored on a DVR (digital video recorder) which can be stored for a number of weeks or months depending on the hard drive size. These images can also be viewed remotely and even on the latest smart phones anywhere in the world (internet connection required).
Were only a phone call away for a free no obligation quotation.
Security lighting
To compliment any security system  lighting is a vital part for both convenience and protection. Systems from companies such as GJD can activate lights with PIR detectors and even tell you which area has been activated. Lights can be switched on timers, photocells or manually – whatever your requirements CNE can sort it
For more information on the range of services we provide please contact us on  01777 701074.